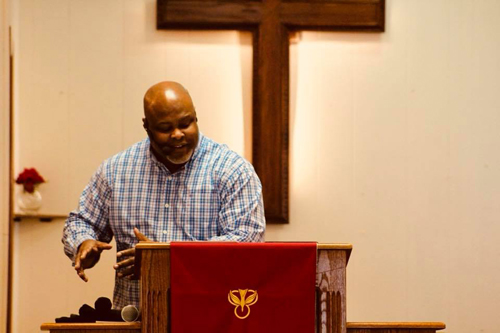 What a powerful Move of God this morning at The Well Full Gospel Baptist Church! From the moment Praise and Worship began, The House was filled with The Holy Spirit. Lady Dez always ushers in The Spirit of The Lord with such passion and conviction. She is truly called to lead the Congregation in welcoming The Holy Spirit into The Well.
Pastor Will Shelley poured out so much Good Word today that I know he must have been completely drained by the end of service. You could just see God moving him and inspiring him as to what He wanted His children to learn and receive today.
When you are serving God under a Pastor who is truly anointed, it is practically impossible to leave service and not feel a stirring in your soul. Pastor Will always "brings it," just like it is, no filter needed and definitely no chaser. However God gives it to him, that's how he is going to deliver it.
One thing that can be said about Pastor Will is that he waits on The Lord to order his steps and to inspire him. Don't even bother to ask him, "What time is church over?" He will tell you that, "It's over when God says it is over." Not before or after God says, "Amen"
At The Well, we have church and it's for real! Times are trying and there is no time to play "willy nilly" with the walk that leads to The Way that God wants us to go. Also, at The Well, you will always be given a word that is based on the Bible, which is the unadulterated Word of Our Lord. Nothing is added to it and nothing is subtracted from it.
This is why partners at The Well are "On Fire for The Lord." Pastor Will is consistently and constantly watering the flock, by way of great leadership, accountability and sound doctrine. Matthew 7:16-20 "You will know them by their fruits. Grapes are not gathered from thorn bushes nor figs from thistles, are they?"
There is always something new going on at The Well that will ultimately benefit the community, the church and overall body of Christ. Sometimes, you just need somebody like Pastor Will who is willing to "meet people where they are," and encourage them by reminding them that "you matter!"
I have seen so much personal and spiritual growth in myself and other partners at The Well. From the oldest to the youngest, I have just witnessed people practicing Enlisting, Voicing, Extending, Reading, Yielding (E.V.E.R.Y.) day!
Come join us for Victorious Worship every Sunday Morning Beginning at 10:00 AM. We welcome you to fellowship with us and also invite you to become a Partner of The Well. Contact Lady Dez for more information and don't forget to visit our prayer page and feel free to make a donation to help us in our quest to expand God's Kingdom.
God Bless YOU!