So many people say that, "We are living in the last days." Yahp, I have to agree. However, that is only a small portion of a greater reality. These times are not just about showing us what is evil and wrong in the world, they also offer an opportunity to witness, with greater clarity, the Divine Interventions that are becoming more and more apparent, even to those who are not practicing Christians.
God is showing up and showing out all over the place. Light shines brighter when it is introduced to darkness. I thank God for allowing me to witness, in His name and to share my testimony about how He has revealed Himself to me. My goal is not to enlarge my profile, but to share His word by living in His grace everyday. His Grace and Mercy are sufficient for me, for He is an Awesome and Mighty God, Who is worthy to be praised.
Today was no exception, in terms of God's continuing to bless me and to order my steps. Half of the time, I don't even have a clue as to what challenges or opportunities are going to be presented to me in any given day. I just choose to trust His wisdom and direction over my life.
So, this morning, I awakened and was about to prepare for church service at The Well Full Gospel Baptist Church in Chester, Pennsylvania, which is under the leadership of Pastor Will Shelley, when suddenly, I realized that we were not having services in Chester, but traveling to Baltimore, Maryland to worship with the congregation of Mt. Oliver Missionary Baptist Church, Bishop Dwight D. Dodd, Pastor.
God led me to stay local and as I went to a nearby convenience store to get a cup of coffee, I encountered a group of homeless brothers and sisters, many of whom are struggling with addiction. The Holy Spirit decided that this is where He wanted me to be this morning, so I stayed and talked with them for quite a spell. I fed those who were hungry and bought them drinks. It was really quite a powerful experience to just spend some time sharing experience, strength and hope with those who could use a little love so that maybe they could have a better day.
After about an hour, The Spirit spoke to me and said to go visit one of my favorite fans who is currently in a convalescence center. Although we have spoken by phone many times, we had never met face-to-face.
So as I arrived at the facility, I made, what I thought to be, a wrong turn and ended up in the parking lot of North Baptist Church on Silverside Road in Wilmington, Delaware, which is under the leadership of Pastor Jimmy Ezell. After circling the building several times, thinking that it was the place where my friend, Mom Josephine, was being cared for, and encountering several locked doors, I eventually found a door that was unlocked. I opened that door expecting to see a reception area. Well, lo and behold, I step through it and discovered that I had just entered into the sanctuary of the church where Pastor Jimmy was well into his sermon, "Jesus Makes Change Possible."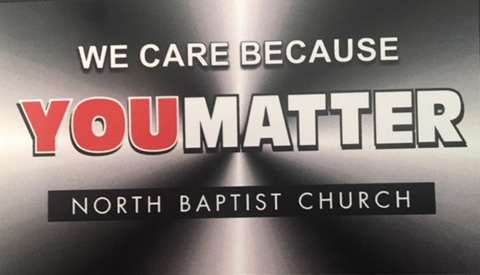 Wow! Not only did I get to attend a beautiful church service, but I also heard Pastor Jimmy recite and point to a poster that displayed the slogan of my home church, "You Matter!"
I really enjoyed today's experiences and cherish the fact that God has been revealing His Plan for my life with ever-increasing clarity and POWER! Revelations are happening daily, but we must seek His wisdom and guidance in order to receive them.
As a side note, and in closing, I want to share another revelation that I had today: I turned on my phone this morning and noticed that I was disconnected from my wifi. What did I do? Well, it was so important to me, that I immediately called my Internet provider and reported that there was something wrong with my connection and that I am not getting my messages. I was willing to follow any guidance or help they could offer, as long I am able to get my connection restored. I trusted their advice and allowed them to remotely reset my connection. Problem solved... Well, I began wondering, "How important is my connection to God?" How important is it to get my messages from Him? Do I value my connection to God enough to call as soon as I noticed that I am disconnected? God has revealed to me that connecting to Him is way more important than connecting to wifi. So, my advice is to check your Divine Connection and call Jesus for help if you are not getting your messages.
Amen.
Bro. Michael Riley is a Partner at The Well FGBC
He is also Host and Producer of "From the Basement to the Upper Room" in Wilmington, Delaware.