First let me say that God is Good and Worthy to be praised! At the time of this writing, I am feeling blessed and highly favored. I cannot claim unfailing adherence to God's plan for my life. Sometimes, I stray too far to the left, or too far to the right, but somehow, I always end up where I need to be, when I need to be there. It is nothing but God's love, grace and mercy that rescues me from the perils that would surely consume me without having His hedge of protection around me.
I have not only found that to be true in my own life, but also I have witnessed it to be true in the lives of loved ones and others, whom I have grown close to along the way. I could give many examples of times, that I know of, when He has stood in the gap for me and the many times that the scores of angels encamped around me have intervened on my behalf, but that is not the purpose of this message. It is not about my testifying, it is about the testimonies that we are all carrying with us from day to day, even though we may not even be aware of them.
See, many times, we don't even know that trouble was heading our way and that the enemy had set a trap intended to secure our doom. How come we didn't know about it? The reason is that God has already ordered our steps and designed the path that we are intended to follow in our walk with Him. So, He goes ahead of us and removes obstacles and eliminates threats and dangers that the enemy had purposed to take us out!
Do you think it is too far fetched to believe that there are actually Guardian Angels assigned to look out for you? Well, you can call me crazy if you want to, but I know for a fact that this is true. In these wicked and trying times, believe it or not, it is easier to see The Hand of God at work than it would be during more tranquil days. Due to the frequency of the need for His intervention, the opportunities for living in your testimony have expanded.
Today's world has the capability of knocking us down to our knees and while we are there, Praise God, we have the blessing of being able to call on The Name of The Lord and to invoke the power of The Holy Spirit and to plead The Blood of Our Savior Jesus Christ over our situations!
My daughter was in a terrible car accident yesterday and it was nothing but the Grace of God that she survived. Her car was struck on the driver's side by a truck that ran a red light. After arriving upon the scene, I was horrified by the severity of the collision. The first thing I saw was the complete destruction of the front end of the truck that was involved. With my heart pounding in my chest, I approached my daughter who was still trapped in her car. I comforted her as the first responders were working to get her out and transport her to the hospital. Upon further inspection, I noticed that not only was the truck damaged on the sided that made impact but, also the entire opposite side was caved in from top to bottom. How could that be? That side did not touch my daughter's car!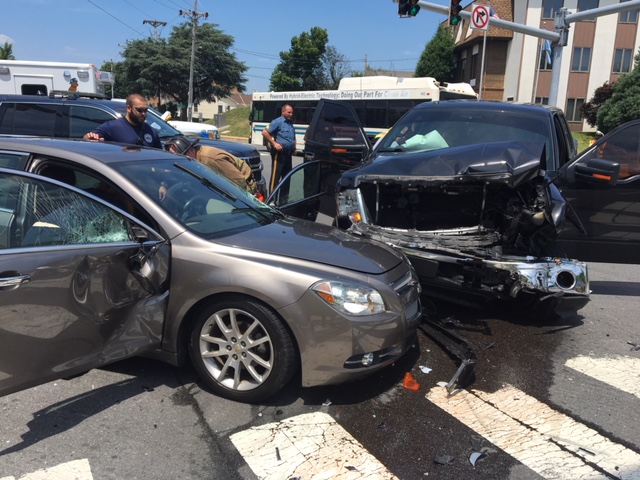 While speaking with my daughter at the hospital, she said that she saw blood on the left side of her face and asked me to take a look, which I did. I informed her that there was no blood on her and that what she saw on the left side of her face was The Blood of Jesus that protected her from the death that sought to claim her life.
Now back to the caved in front of that truck... After speaking with my Pastor, Will Shelley, we both bore witness to the fact that the extreme damage to the truck on the side that did not touch my daughter's car was caused by The Mighty Team of Angels that surrounded her and absorbed the brunt of the force in the collision. If that is not enough to cause you to trust and believe in God, then I don't know what would suffice. Instead of having to plan a funeral for my daughter today, I was blessed to attend service at my church this morning at The Well Full Gospel Baptist Church in Chester, Pennsylvania, and give God praise while receiving a great message, preached by Pastor Shelley, on deliverance and completeness from the Book of Hosea. (Hebrew. From the Hebrew word hoshea', literally, salvation, help). This article was encouraged and inspired by my witnessing a miracle and by my conversation with Pastor Will Shelley. Also, please read the following for additional study:
Psalm 57:6
They spread a net for my feet; my soul was despondent. They dug a pit before me, but they themselves have fallen into it!
Psalm 37:24
Though he falls, he will not be overwhelmed, for the LORD is holding his hand.
Amen.
Bro. Michael Riley is a Partner at The Well FGBC
He is also Host and Producer of "From the Basement to the Upper Room" in Wilmington, Delaware.